Each kit provided by Flying Legend includes the following: fuselage, wing, empennage, flight control, fixed landing gear, aluminum tanks and the canopy kit.
Each kit includes also all the hardware parts (bolts, nuts, rivets and so on) required to assembly the aircarft. A amateur builder requires approximately 300/350 hrs to complete the airplane
The standard kit does not include the retractable gear that has to be selected in the option list
Entirely made in Aluminium 2024-T3/6061 -T6, the structure is calculated for a MTOW of 1433 lb and a load factor of +6/-3G. or 1653 lb with a loaf factor of +4.4/-2.2G
The QBK kit price INCLUDES builer's ASSISTANCE,
BUILDING and final ASSEMBLY of THE Tucano KIT FROM ITS BASIC VERSION TO THE QBK one. This SERVICE IS OFFERED at designated dealers locations.
Visit the dealer button to find out the closest to you.
STEP-in ROD – fuel sensor – FIBER GLASS TIPS – are also included
What is included in the QBK kit?
QBK Fuselage
Fuselage kit is entirely closed, –
The floor and the pedals arrangement are done with FL help
Standard pipe fuel system will be inserted with the help of FL team
Controls and the instruments assemblage has to be done by the builder
Roll bar, additional baggage compartment, internal upholstery will be completed with FL team
Fuselage is provided with inspection windows which allows the builder an easy access to the internal components.
QBK – Half Wing
Wings, which are tapered, are closed and the tanks are placed inside with the help of FL team
In case of retractable landing gear option FL team will assembly it and the builder has to insert it inside the wings
Fuel return pipe, pitot pipe, flight control rod, ailerons and flaps are assembled with FL team and the fiberglass tips have to be assembled by the builder.
Our wings are provided with inspection windows too.
Empennage
Hinges, conterbalance and kit trim will be assembled and set to be inserted in the fuselage with the help of FL team
The amateur builder has to assembly the fiberglass tip and supply the trim electric motor.
FINISHING
The Finishing kit includes all the parts necessary to complete your aircraft with very low price:
the pedals, engine mount and all the other elements in chrome molybdenum are already welded and treated with powder paint by FL.
Canopy kit is included
Assembled flight control, front panel, throttle system, front pilot toe brakes, standard fiberglass, fuel system with valve , standard weels, all brake lines, cowling, standard spin, electric flap actuator are included
All nuts, platenuts, washer, bolts, screws, rivets, pop-rivets, tube fittings needed are included
STEP-in ROD – fuel sensor – FIBER GLASS TIPS – are also included (on QBK Kit)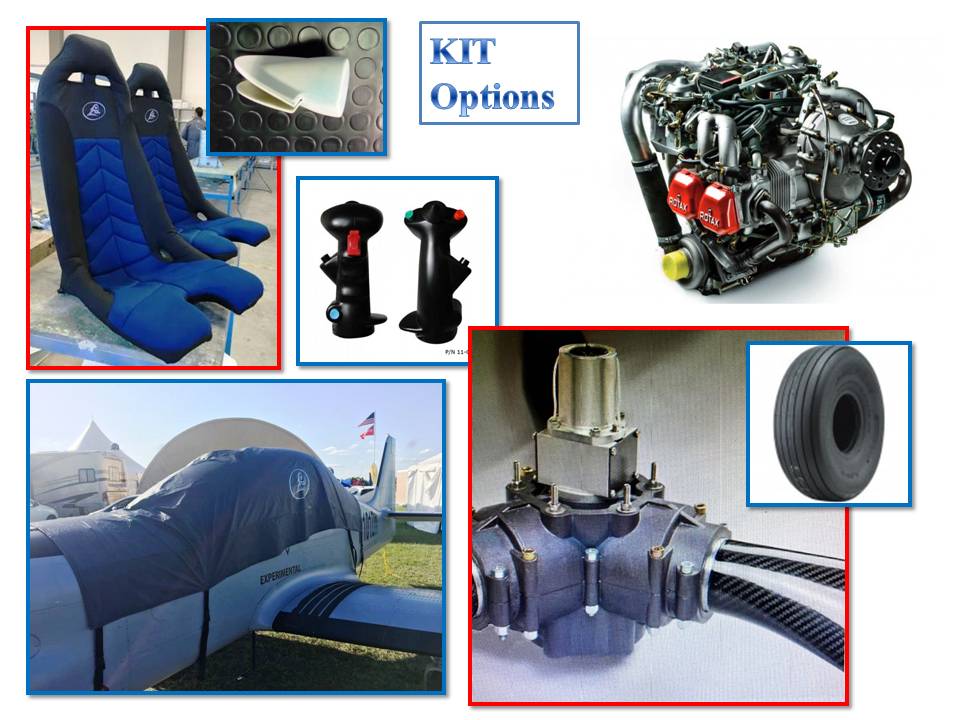 If you would like to add any further options, please check the button below